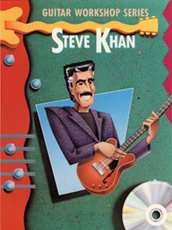 Born in Los Angeles, California, Khan is known for his work with artists such as Steely Dan, Billy Joel, Michael Franks, Hubert Laws,Billy Cobham, Jack DeJohnette, James Brown, Maynard Ferguson, and Weather Report. In 1977, he toured with the CBS Jazz All Stars in Japan, and led a band called Eyewitness that featured musicians such as Steve Jordan, Anthony Jackson and Manolo Badrena. Khan is the author of five books on jazz music: Pentatonic Khancepts, Contemporary Chord Khancepts, The Wes Montgomary Guitar Folio, Pat Martino - The Early Years, and Guitar Workshop Series. His album Borrowed Time (TIEMPO PRESTADO) was a nominee for the 2007 50th Grammy Awards in the Best Latin Jazz Album (vocal or instrumental) category.
His dedication to the creation of unpredictable mergers Khan has given visibility
and
privileged place in different genres of Jazz, but in our view the inclusion of the electric guitar in the exploration of Caribbean and South American rhythms has given a great connotation .
Khan has lived for periods in countries like Venezuela , where he is valued and loved .
At the time of his own, Steve Khan , has produced twenty-five ( 25) CDs. Excluding the
shares
or other collaborations he has done for other groups or musicians.
His latest production "Parting Shot" (2011 -ESC Rec) we could consider it as a Latin Jazz Tribute to Khan. Besides being accompanied by remarkable musicians ever, Anthony Jackson, Manolo Badrena , Marc Quiñones , Bobby Allende , Dennis Chambers, are the names of the compositions as " Zancudoville ", "Los Gaiteros", " Bye- Ya" , "Maria Mulambo" , "Traficante de Influencias".
But it has through his brilliant career Khan has devoted much time and space to Latin Jazz, which can be seen in his recordings . The recent winner of the Grammy Awards in the category Best Latin Jazz Album : "Ritmo " by Clare Fischer, counted with the collaboration of Khan.
Now this extraordinary guitarist Steve Khan , prepares for the release of their CD No. 26 which is called " Subtext " next June 24, 2014.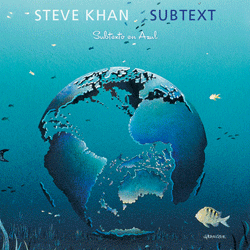 "
SUBTEXT
" is the title of Steve's forthcoming recording, and again, there is a subtitle in Spanish, "
Subtexto en Azul
." On the album, Steve continues his explorations of the wondrous traditions of Latin music, and this time, the core group features:
Rubén Rodríguez
(El. Bass & Baby Bass),
Bobby Allende
(Conga),
Marc Quiñones
(Timbal), and
Dennis Chambers
(Drums). At varying moments, they are joined by some great musicians, dear friends, as guest artists, including:
Rob Mounsey
(Keys & Orchestrations);
Randy Brecker
(Flügelhorn);
Gil Goldstein
(Accordion); and
Mariana Ingold
(Vocals). In all, they perform Steve's arrangements of compositions by: Ornette Coleman, "Bird Food"; Freddie Hubbard, "Baraka Sasa"; Wayne Shorter, "Infant Eyes"; Greg Osby, "Heard"; Thelonious Monk, "Hackensack"; and the gorgeous ballad, "Never Let Me Go"(Livingston-Evans). All this, plus 2 originals from Steve, and, a
Cumbia
driven Vallenato epic collaboration between Steve and Mariana Ingold.
We shall now see and hear the music of Steve, always own music this time dedicated to the Caribbean:
¡¡Viva The Latin Jazz!!